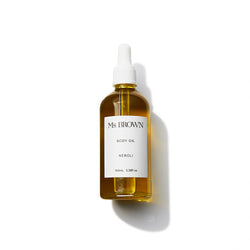 A nourishing botanical oil combining six nutrient-dense oils carefully chosen for their abundance of antioxidants, vitamins A, D and E and skin restorative properties. This formula repairs, hydrates and increases skin's capacity to retain moisture, leaving it soft, supple, fragrant and glistening. 

Elegantly scented with Organic Neroli Essential oil from the bitter orange tree. This honeyed, spicy scent has long been used for its relaxation properties.
KEY INGREDIENTS
Organic Camellia Oleifera Seed Oil
The green tea extract taken for cosmetics, this oil is one of the most proven for skin benefits. The potent antioxidants have anti-aging properties and can be effective in improving the appearance of sun-damage.

Meadowfoam Seed Oil Limnanthes Alba
This wonder-oil has unique properties that allows it to penetrate moisture deep into the dermis, and keep it there. It's structural similarity to human skin sebum allows it to balance the complexion, making it a superior choice for both oily and dry skin types.

Jojoba Simmondsia Chinensis Seed Oil
Extracted from the seed of a perennial shrub, jojoba oil strengthens skin's restorative properties. It is a particularly great remedy for dry skin because of how the texture mimics that of skin's natural oil.

Organic Avocado Oil Persea Gratissima
This non-fragrant plant oil is an excellent source of fatty acids that help replenish and nourish skin. It is rich in antioxidants that protect cells from free radicals.

Organic Sunflower Seed Oil Helianthus Annuus
Containing a high level of linoleic acid, sunflower seed oil aids skin to synthesise its own fats, visibly repairing its barrier resulting in smoother, stronger healthier-looking skin.

Shea Oil Butyrospermum Parkii
Extracted front the nut of the African Shea tree, Shea oil is a naturally ample emollient which helps skin retain moisture. It is also a rich source of a host of antioxidants as well as Vitamins A, D and E.