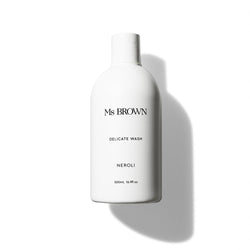 A gentle cleansing liquid for silk, lingerie and other precious pieces. Plant extracts, organic herbs and pure essential oils carefully cleanse, soften and refresh garments made from silk, synthetics and blended fabrics. Delicately scented with the elegant and heady aroma of pure neroli essential oil. Suitable for use in washing machine or hand washing.
ALL-NATURAL . NON-TOXIC . BIODEGRADABLE
Made in Australia.
500ml / 16.9 fl oz
KEY INGREDIENTS
Organic Soapwort Saponaria Officinalis Not soap. Not a wort. But a plant that contains a soapy substance called saponin, used by the Ancient Greeks for generations to wash delicate tapestries and heirlooms.
Neroli Flower Oil Citrus Aurantium Amara Not only does Neroli pure essential oil smell gorgeous it has some of the best properties in terms of relaxation and stress reduction. It also has excellent natural antimicrobial properties making it beneficial in cleansing your garments as well.
FREE FROM allergens, irritants and harsh synthetic or petroleum-based chemicals, parabens, sulphates, phosphates, synthetic dyes or fragrance, animal products, palm oil, sodium lauryl sulfate or sodium laureth sulfate.